Automatic object detection with AI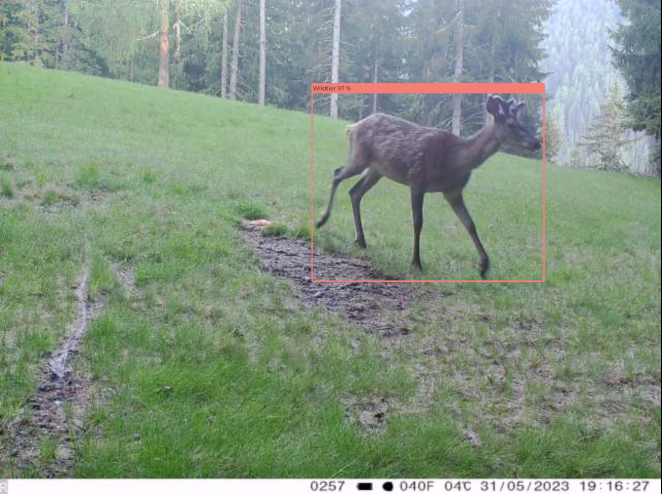 Nous travaillons depuis longtemps sur des modèles d'IA pour la détection automatique de la faune dans les images des caméras de la faune. Dans un premier temps, nous pouvons détecter les personnes, les véhicules, la faune et les images vierges avec des taux de réussite très élevés.
Avec les résultats de l'IA, il est possible, entre autres, de filtrer les images selon certains critères. Il est désormais possible, par exemple, dans l'aperçu des images de filtrer toutes les images vides ou d'afficher uniquement les images avec des animaux sauvages.
Nos algorithmes fonctionnent avec les caméras Deermapper et les caméras d'autres fabricants qui peuvent être intégrées dans Deermapper en tant que caméras externes.
Llevamos mucho tiempo trabajando en modelos de IA para la detección automática de vida silvestre en imágenes de cámaras de vida silvestre. Como primer paso, podemos detectar personas, vehículos, vida silvestre y marcos en blanco con tasas de acierto muy altas.
Con los resultados de la IA es posible, entre otras cosas, filtrar las imágenes según determinados criterios. Ahora es posible, por ejemplo, filtrar todas las imágenes vacías en la vista general de imágenes o mostrar solo imágenes con animales salvajes.
Nuestros algoritmos funcionan tanto con cámaras Deermapper como con cámaras de otros fabricantes que pueden integrarse en Deermapper como cámaras externas.
We have been working on AI models for automatic object detection in wildlife camera images for a long time. As a first step, we can detect people, vehicles, wildlife, and blank images with very high hit rates.
With the results of the AI it is possible, among other things, to filter the images according to certain criteria. It is now possible, for example, in the image overview to filter out all empty images or only display images with wild animals.
Our algorithms work with both Deermapper cameras and cameras from other manufacturers that can be integrated into Deermapper as external cameras.
However, our work on AI models is only at the beginning. We are very optimistic that we will be able to present ever more comprehensive and better AI methods in the coming months. This includes the reliable detection of game species, a differentiation of sex and much more.